The training of local stakeholders on sustainable mobility in Tartu has been a very successful activity for raising awareness on the subject among the local stakeholders. Sustainable mobility was a new concept in Tartu, known only by a few experts, it was therefore very important in  to create a "culture of understanding" on the subject and pave the way for on-going commitment from the stakeholders.
Training in Tartu
February - June 2012
10 sessions
60 hrs of training
10 lecturers
54 graduates
Organiser: Tartu City Council
The lecturers for the training were chosen carefully and it was important that they had experience and innovative ideas in the field of sustainable mobility.
The training participants were also targeted carefully. The local project partner, Tartu City Council, had a clear idea of the local stakeholders that should be involved in the training sessions and prepared a list that included:
Officials of local authorities, i.e. engineers, traffic specialists, architects, specialists of public transport and community services, politicians.
Representatives of private enterprises, i.e. planning, designing and traffic companies.
Representatives of state, i.e. road administration traffic safety and planning specialists, police department.
Representatives of NGO-s on sustainable traffic.
Representatives of universities - planning and transport planning lectures and professors.
The participants showed a lively interest throughout the training activity and an important outcome was the discussions that took place during the training sessions. They provided an opportunity to exchange ideas among people with different professional backgrounds and further examine how sustainable mobility can be incorporated in other fields, i.e. architecture.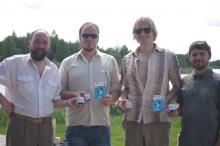 The training sessions were recorded and the materials presented are available on the MoMa.BIZ YouTube Channel and the e-learning platform (http://momabiz.engim.it/). In addition an e-book was created and is available at http://moma.biz/files/Liikluse%20planeerimine%20ja%20juhtimine%20E-raamat2.pdf.
The training activity in Tartu has managed to meet the needs of the local stakeholders and create a sustainable mobility culture among them. This guarantees a multiplier effect through the "transfer" of know-how among professionals as well as a long term impact in how professionals approach their work with a view to sustainability and ultimately to the local community who will benefit from this.